In addition to providing bare board Micromodem systems to customers, we also have the capability to provide complete packaged solutions. We have a variety of pressure vessels, buoys, deck gear, software development modules and other enclosures to support the needs of any application. We have a number of standard sized housings that can be fabricated in various materials to support applications at the surface down to 6000m+.
Below is just a small sample of some of the designs we produce and are available for purchase. Please contact Keenan Ball at kball@whoi.edu for additional information.
---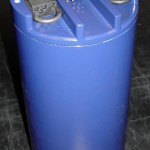 Micromodem RFF Full Stack (1000m Impulse LPMBH) Housing:
This is our standard pressure housing for our Multi-Channel PSK RFF modem systems using Impulse LPMBH series connectors.
2000m rated versions are available. Deeper versions can be designed upon request to meet your application requirements.

252008-ASM details mechanical dimensions, and connector pinouts.
---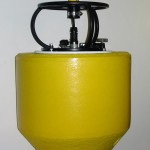 Micromodem VSW Modem Buoy:
This is our standard 15.5 inch diameter very shallow water modem buoy.
Multpile usage options:
Standard Mooring in <100ft Water
High Flyer Mooring in >100ft Water (requires additional mooring hardware not included)
Drifter using up to 50m of transducer/array cable.
Buoy includes:
Freewave FGR Series 900MHz (2.4GHz Optional) RF radios (Base station and buoy), ranges up to 60nmi are possible depending on antennas and antenna height at the base station.
UBlox GPS
Sealite SL15 solar light
Anchor and rigging
(3-10) Li-Ion rechargeable batteries and chargers for up to 5 days of run time (depending on usage)
Shipping case.
Shipping case size and total weight is less than 150lbs for shipping via standard carriers such as Fedex and UPS. Note that Li-Ion batteries are Class 9 Excepted HAZMAT. Proper shipping measures must be taken.
Buoy can support (2) RFF modem system, (1) 205118 Intel Edison Interface Board with Intel Edison Controller.
Buoy storage cart is also available upon request.

255019-ASM
---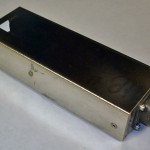 Shielded Box for 201002 MM and 203004 CP:
Shielded modem enclosure for applications only requiring the RX capabilities of the modem or applications where an external power amplifier is already in place.

256054-ASM
---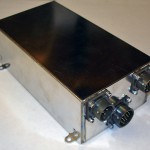 Shielded Box for Multi-Channel PSK RFF Modem Stack:
Shielded modem enclosure for applications where the modem may be isntalled in potentially noise environments.

256071-ASM