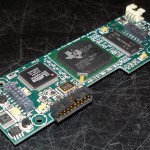 Micromodem c6713 Coprocessor:
The Micromodem coprocessor is based on a TI c6713 floating-point digital signal processor. The Micromodem uses the coprocessor for single-channel and multi-channel PSK receptions.

203004-ASM details mechanical dimensions, connector locations and pinouts. (In particular, connector J2 on the coprocessor is FCI 98464-G61-08LF, and users' wiring harnesses will need to use the mating connector to that, which is FCI 90311-008LF. J2 pin 1 is Vin (5V-20V) and pin 5 is GND.)
203004-TUT: Programming a Coprocessor using a Micromodem-1.